3 Things People Get Wrong about Louisiana Estate Planning
Feb 23, 2022
by Ciolino & Onstott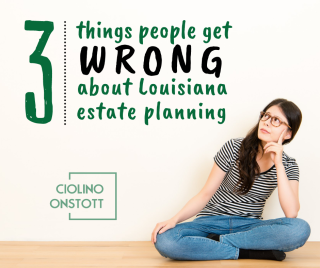 Louisiana estate planning isn't an easy process. While it isn't brain surgery or rocket science, making the decision to create a Louisiana estate plan requires us to come face to face with the realization that we're mortal beings. It's clear why this single thought stops many people from starting the process.
Many talk themselves out of
scheduling a consultation with a Louisiana estate planning attorney
because there are three things that people commonly get wrong about the estate planning process. In this article, we will discuss these three common estate planning myths.
This blog post is for educational and informational purposes only. It is not intended as a substitute for legal advice. If you would like to start the estate planning process, schedule a free consultation with Ciolino & Onstott, LLC now!
Myth #1: You Only Need a Louisiana Estate Plan If You're Rich
Often, when we hear about estate planning on the news or read about it online, it usually involves someone wealthy or a celebrity who didn't have an estate plan, made a mistake with their estate plan, or someone with family members who are angry about the estate plan. Prince comes to mind as a
relatively recent example of a celebrity
without an estate plan.
The topic certainly captures attention. Rich people have so much that, surely, they need an estate plan. They can afford to have it done the right way. By comparison, when the average person thinks about their own planning needs, they assume that their possessions are not worth enough to necessitate an actual estate plan.
Related:
Life Insurance for Estate Planning: What You Should Know
Yet, this line of thinking couldn't be any further from the truth. Estate planning isn't just about money. While proper planning does enable you to determine who gets your money and property when you pass, the process also addresses what happens if you become unable to manage your own affairs and someone must make decisions on your behalf. If you have an estate plan, the court will need to appoint someone to make medical and financial decisions for you. This process can be very time-consuming, expensive, and public. It can cause issues for your family if they disagree about who should be appointed and how decisions should be made.
Even if your means are modest, you should consider who gets your hard-earned savings when you die. If you have no plan, Louisiana state law determines who gets what, and many times, the government's best guess as to what you would have wanted doesn't line up with your actual desires.
Myth #2: You Don't Need a Louisiana Estate Plan Because Your Spouse Will Get Everything
For most married couples in Louisiana, jointly owning properties and holding joint bank accounts is common. It is often presumed by the couples that when one of them dies, the other becomes the full owner of the jointly owned property.
Unfortunately, Louisiana intestate law does not make property ownership quite that simple even between spouses. We are the only state in the nation that relies on the legal concepts of "naked ownership" and "usufruct." These concepts divide the ownership rights of the property. As the surviving spouse, you may have the right to "use" the home. However, you may not have the right to "dispose" of it. You can learn more about the division of ownership under Louisiana inheritance law when there's no will involved by
reading an earlier blog post
.
This highlights the importance of creating an estate plan when you're married.
Myth #3: If You Create a Will, You Can Avoid the Louisiana Probate Process
It is widely believed that once someone has a will created, either by an experienced attorney or by using a DIY solution or online form, they can avoid the Louisiana probate process. This isn't necessarily the case.
While a will is an effective way to designate a person to handle your affairs after you pass away, determine who receives your money and property, and, if necessary, appoint a guardian to care for your minor children, a will must be submitted to the Louisiana probate court to begin the process of distributing your money and property in some instances. The level of the probate court's involvement varies depending on the circumstances, but because the will becomes a matter of public record, the process is not private.
Learn More about Louisiana Estate Planning
If you're ready to learn more about the Lousiana estate planning process, how wills operate, and how the probate process works in Louisiana, Ciolino & Onstott is here to help. Louisiana procedures are different compared to the rest of the United States. It's important that you understand our state's processes and how to use them to your advantage. Don't wait.
Schedule your free initial consultation now
!