Estate Planning Questions: How to Talk to Your Attorney
Apr 8, 2022
by Ciolino & Onstott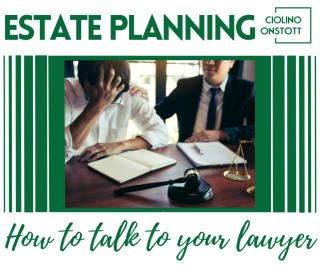 For many people the thought of meeting with a Louisiana estate planning attorney causes fear. It's often uncomfortable to think about the possibility that you may no longer be able to manage your own affairs, let alone that you're mortal and your property and accounts will pass on to someone else. So many people ignore both of these thoughts and put off the crucial task of estate planning. As a result, they are unprepared when something unfortunate occurs. And if we're being honest, all of the legal jargon that happens during any estate matter or legal proceeding can be confusing
and
intimidating. Do you need a will? Do you need a trust? Do you need both? What about all of these things called "powers of attorney?" And what on earth is a living will?
Ciolino & Onstott, LLC knows that estate planning can be a scary process. Honestly, the scary part isn't the terminology. It's the fear of the unknown. That includes not knowing what you might encounter at the attorney's office. That idea leads people to imagine all kinds of awful scenarios which leads them to do anything other than set their appointment.
So, in an effort to take some of the fear out of the process, we've decided to provide you with a list of estate planning questions that you may be asked during your appointment. By doing this, our goal is to help you get comfortable with the idea of coming to visit us. Of course, this isn't a full list of estate planning questions, but it is some of the most common questions first-time visitors are asked. Then, as we get to know you and your needs, we're able to ask you better questions to help you create an estate plan that meets those needs.
This blog post is written for educational and informational purposes only. It is not a substitute for legal advice. If you want legal advice related to Louisiana estate planning, please schedule your free initial consultation with Ciolino & Onstott, LLC now.
5 Common Estate Planning Questions
Before we get into the five common estate planning questions you can expect, we just want to make a quick comment. You'll notice that we do list one or two actual questions ad you'll notice that we also list a couple of subjects. There's a method to our overall "madness." Take the subject of minor children as an example. While one of our clients may have biological or adopted minor children in their home, another client may have minor children that they brought into their home because a sick loved one asked them to take care of their child or children. Another may take care of a minor child because the parent or parents are incarcerated. There are many situations that we just wouldn't be able to cover under a single question. So, instead, you'll notice we chose to break certain subjects down into subjects despite naming this piece estate planning questions. We know you'll forgive us for that!
Let's get started.
What Keeps You Up at Night?
Although this may seem like an odd question for an estate planning attorney to start with, another way of asking is, "What do you find yourself thinking about or worrying about most often regarding your property, your family, and your future and the future of our loved ones?"
Related:
3
Things People Get Wrong about Louisiana Estate Planning
What your estate planning attorney wants to find out with this question is your motivation for estate planning. By knowing your underlying concerns and goals, we will better be able to help you by finding the right legal tools to address your legal needs. In some cases, we can help you discover that your concerns aren't actually addressed with legal cools. Instead, you may need the help of financial, tax, or
healthcare professionals
.
Maybe you're visiting because your financial advisor or CPA told you to get your estate plan together. Maybe they told you that your finances could impact your future tax liability, and that without the right legal documents provided by a Louisiana estate planning attorney, there could be a significant
federal estate tax
for you or your family in the future.
It could be that the thing that keeps you up at night is a concern for your children. While we'll address minor children separately, it's important that we discuss it here because we are not just discussing minor children.
In fact, we're discussing adult children. Maybe one of your adult children has an incredibly rocky marriage, and you're not sure if they'll have the financial ability to provide for themselves and their children if their marriage collapses. How can you protect their inheritance if you pass away and then they end up getting a divorce?
Maybe you have a child that has special needs and will have significant living expenses in the future because of their condition. Maybe you have a child that cannot get ahead in life, has substance abuse issues, or they're just irresponsible with money and they always seem to need your help to get back on their feet.
If these are the kinds of things that keep you awake at night, our Louisiana estate planning attorneys will want to understand the dynamics in your circumstances as well as your goals so that we can draft the proper legal documents to meet your needs. Our goal isn't to tell you what your needs
should be
. It is to understand what is right for
your
situation.
Worst-case Scenario Estate Planning Questions
Yes, we know that worst-case scenario estate planning questions aren't what you want to think about, necessarily answer, when you're coming to visit, but we are all mortal. And the purpose of estate planning is to make sure that your family is cared for after you pass away. The other purpose of estate planning is to make sure that you are taken care of if you are unable to care for yourself if you can no longer make your own decisions.
Think of it this way: it is important to identify where you would want your money to go if you were to pass away. So if you were on an island with your spouse, your kids, your grandkids, and even your great-grandkids for a huge family reunion and a meteor came out of the sky and hit the island there were no survivors, what would you want to happen to everything you owned?
While a meteor out of the sky is certainly far-fetched, natural disasters and other accidents aren't. Each state, including Louisiana, has its own laws on what happens to money and property if someone passes away with no heirs (and no will, for that matter). If you don't have a will in place, you may not be happy with what would happen to your belongings (with or without your entire family being alive). So think about how you want your property and money distributed through an estate plan, be it to a favorite cousin, aunt, your best friend, a favorite college, or even charitable giving.
Related:
Louisiana Intestate Succession: Who Inherits, and What Do They Inherit?
Death and Remarriage Estate Planning Questions
You'll also be asked about death and remarriage. Here's an example of what it could be like: "Imagine that you or your spouse pass away. Six months later, the survivor meets an old high school sweetheart who is single. Romance blossoms and they decide to get married soon after. How comfortable are you with the possibility of all of the money and property you acquired during your marriage becoming jointly owned by your surviving spouse and their new spouse? Do you have any concerns about your spouse later dying and leaving everything to their high school sweetheart either intentionally or inadvertently?"
While there are certain legalities related to real property that involve your spouse being able to use the marital home via usufruct and naked ownership that may prevent them from taking other actions, such as selling the home or leaving it to their new spouse. Usufruct ad naked ownership are complex estate planning concepts that can't be truly explained within the confines of a blog post.
However, you must also consider the remainder of your assets, including money. If you leave everything else that you own to your spouse, and that spouse remarries without taking certain legal steps, your spouse might put what you left them at risk of ending up in the hands of a total stranger instead of in the hands of your children or other intended beneficiaries.
By identifying these concerns, we can help you take the proper steps now to help you protect your property. You can have peace of mind even in the event of remarriage, or even in the event of a lawsuit against the surviving spouse, you can have taken the necessary steps to protect your property from being lost to a surviving spouse or to creditors. You can protect your spouse until they pass away and then ensure that your assets will go to your intended beneficiaries.
Decisions about Minor Children
Another extremely important issue that must be discussed is who will care for your minor children if you're no longer able to do so. We will also discuss who you'll want to manage your property and accounts for the benefit of your minor children in the event of your death or disability. Is it best for the people raising your children to oversee the money? Will that invite potential financial abuse and exploitation? Be prepared to discuss options such as whether it makes better sense to have a professional or another family member manage and distribute the money while another person raises the children.
Healthcare Decisions
We'll also talk about who should make your healthcare decisions for you if you're no longer able to do so. This does require you to think about yourself in a situation where you're receiving healthcare services but can't communicate your wishes about your case. So, think about if you want your spouse to make those decisions. If you're not married, think about who you can trust to make those decisions.
We will also discuss various healthcare scenarios you may encounter as well as the kinds of decisions you are comfortable entrusting to a healthcare agent and those that should not be made by an agent but rather in advance, by you, and documented so that healthcare providers will know your wishes in regards to certain types of treatments. Maybe you never want to receive chemo or radiation or you have a religious belief that prevents you from receiving a blood transfusion. Maybe you never want to be placed in a nursing home and you prefer that your money be used to keep you in your home for as long as possible. If these are decisions that you do not want to leave in the hands of others, we can help you document these choices.
Schedule Your Free Initial Consultation Now
Those are just a few of the estate planning you might be asked when you work with our estate planning attorneys. We believe that understanding their purpose will help you prepare for a successful ad productive meeting. While some may make you feel uncomfortable and fearful, doing the difficult work of thinking through these scenarios and how you want them handled is an important first step toward responsibly planning for the future.
Schedule your free initial consultation with Ciolino & Onstott, LCC now
.