Louisiana Estate Planning Forms for Mental Health Solutions
Nov 17, 2021
by Ciolino & Onstott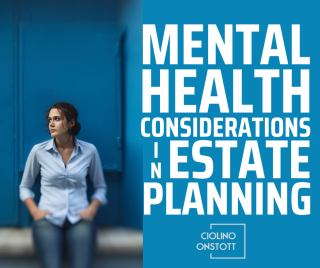 It is okay to not be okay. Removing the stigma of mental health starts with realizing that many people—about one inf five of all US adults— are affected by mental illness and will require ongoing mental health support. Understanding this fact can lead to more people getting the help they require, not only by seeking guidance from a mental health expert, but also by planning for the future with mental health considerations in mind. How do you go about ensuring that you or someone you love can get the care necessary for their mental health condition? The good news is that there are Louisiana estate planning forms that can provide mental health solutions throughout the entirety of a person's life.
This blog post is for educational and informational purposes only. It is not a substitute for legal or mental health advice. For legal advice related to Louisiana estate planning forms, give Ciolino & Onstott a call to schedule your free consultation. For mental health care needs, consult with a licensed mental health care professional or your primary care doctor.
The odds are that you or somebody in your family is living with a mental health condition. Rather than ignoring what might be an uncomfortable topic, think proactively about the challenges of living with mental illness. Estate planning is a sensitive subject and it can be even more sensitive when the issue of mental health is involved, regardless of whether the person living with it is you or one of your beneficiaries. If you need to set up an estate plan or revise an existing estate plan, around mental health concerns, Ciolino & Onstott is here to help. Louisiana estate planning forms can be specifically chosen to meet mental health goals and ensure that mental health support is appropriately provided throughout life.
Learn more by scheduling your free initial consultation with our Louisiana estate planning attorneys now
.
Nearly 50 Million Americans Suffer from Mental Illness Conditions
Saying that America is dealing with a
mental health crisis is not an exaggeration
. According to the National Alliance on Mental Illness, approximately 20% of US adults experience
mental health problems,
including 1 in 20 who experience serious mental illness, and 17% of American youth experience a mental health disorder.
The mental health crisis has worsened during the coronavirus pandemic. Loneliness and isolation are fueling increases in anxiety, depression, and thoughts of suicide and self-harm, reports
Mental Health America
. More people are seeking mental health screening and treatment, but around 23% of Americans with mental illness are still not receiving the services they need.
Improvement starts with acknowledging that there is a problem. Seeking out mental health support, including talking to a healthcare professional about mental health struggles and treatment options leads to better outcomes. One improved outcome can be creating an estate plan that considers your own or a family member's mental health.
Mental Health and Estate Planning Louisiana
Estate planning in Louisiana should be tailored to the individual's needs and their unique family dynamics. Several estate planning documents are available to address concerns about mental health. Chief among such concerns is the possibility that, at some point, you may be unable to manage your own affairs. To prepare for that contingency, consider having the following documents in place.
Louisiana Financial Power of Attorney
A Louisiana financial power of attorney allows you to appoint someone to manage your finances for you. For example, they can manage your bank accounts or sign papers at a real estate closing on your behalf. It is imperative that you understand the legal ramifications that a Louisiana financial power of attorney can create before you sign it. You should seek legal advice before signing it.
Louisiana Medical Power of Attorney
A Louisiana medical power of attorney gives an individual of your choice the legal authority to make decisions about your medical care when you no longer can. You have the discretion to limit the kinds of decisions that your chosen representative may make. This document can be durable, meaning it continues if you are deemed incapacitated by a doctor. If it is is not durable, it terminates if you are declared incapacitated. You should seek legal advice before you give someone permission to make medical decisions on your behalf.
Revocable Living Trust
A revocable living trust contains money and property that you transfer into it. You can act as the trustee, or you can choose a person to manage it for your benefit while you are still alive. You can set up a living trust in such a way that it can be changed or revoked except when you do not have the mental ability to do so or have passed away. A living trust can also specify the distribution of money and property when you die.
Related:
What Is an Estate?
In order for these Louisiana estate planning documents to have legal authority, you must have mental capacity when you sign them.
If you aren't sure that you have the legal capacity to sign the documents, you may want to obtain a professional opinion from a licensed mental health provider stating that you are of sound mind and understand the meaning and effect of the documents you are signing. Alleging lack of capacity is a common basis for contesting an estate plan.
In addition, if you are entrusting someone with power of attorney authority, and that person has their own mental health concerns, you should discuss the issue with your family as well as your estate planning lawyer.
Ciolino & Onstott provides free initial consultations.
Planning for the Mental Health Support of Your Beneficiaries
Having beneficiaries who suffer from mental illness presents a different estate planning challenge. You must pass your legacy to them in a way that serves their best interests so that mental health solutions can be provided. Discretionary trusts and supplemental needs trusts are two ways you can look out for a mentally ill loved one even after you are gone.
Discretionary Trusts
If you are concerned that a family member's mental illness will prevent them from spending their inheritance wisely, a discretionary trust is an option. With a discretionary trust, you choose a trustee who determines how to spend the money in the trust. The trustee can make sure that the money is used for the beneficiary's necessities, and the beneficiary cannot misuse it. This type of trust makes sense for someone who is not receiving and does not plan to receive public assistance.
Third-party Special Needs Trusts
As with a discretionary trust, a special needs trust has a trustee to make distributions for the beneficiary's benefit. In contrast to a discretionary trust, the money and property in a special needs trust do not go directly to the beneficiary. Instead, the money is used to pay for certain supplemental needs, such as personal care, mental health support (including therapy), and education. As a result, the money and property in the trust do not disqualify the beneficiary from becoming eligible or receiving needs-based government benefits, such as SSDI, Medicare, or Medicaid.
Learn More about Louisiana Estate Planning Forms for Mental Health
There is a significant difference between suffering from a severe mental illness, such as bipolar disorder or schizophrenia, and a more minor issue such as anxiety or depression. Some people's mental health issues can come and go over the course of their lifetime. Others' illnesses are prolonged or recurrent. In some cases, a person may be genetically predisposed to mental illness that has not yet manifested. Choosing the right Louisiana estate planning forms can protect you and your loved ones from whatever type of mental disorder may be of concern.
These are some of the factors to consider when making estate planning decisions based on mental illness in your family. Every individual and every family is unique. Your estate plan should reflect what you know now and it should be updated to reflect changes in your life and the lives of your family members. Learn more about Louisiana estate planning forms by
scheduling your free consultation with Ciolino & Onstott
. We want to help you understand how you can best plan for the future.