Max Ciolino Named Super Lawyer Rising Star for Second Year
Feb 1, 2022
by Ciolino & Onstott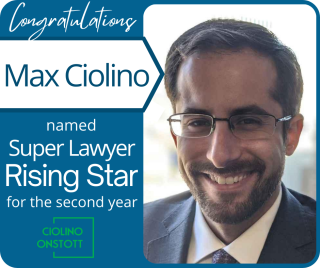 Ciolino & Onstott is proud to announce that Max Ciolino was selected as a Super Lawyer Rising Star for the second year in a row. Max is honored to be named as a Rising Star. Rising Stars are lawyers who are 40 years or younger or lawyers who have practiced law for ten years or less.
Max is dedicated to the practice of law and to providing only the highest level of service and care to his clients.
What Is a Super Lawyer?
A Super Lawyer is an attorney who has been recognized by their peers for their professional achievement through independent research, peer nominations, and evaluations. The Super Lawyer's designation is given to fewer than 5% of attorneys in a state. The Rising Star designation is given to only 2.5% of lawyers in a state.
Schedule Your Free Initial Consultation with Ciolino & Onstott
You can schedule a free consultation with Ciolino & Onstott and work with a Super Lawyer Rising Star.
Click here to begin the scheduling process
.